Fightback4Justice
Non Profit Community Interest Group offering expert welfare benefit advice, help with advocacy & forms for PIP/ESA/DLA/UC.
Join Now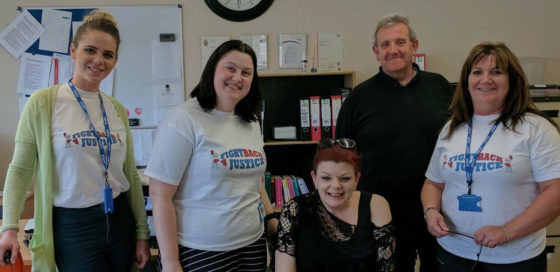 Founded in 2013, Fightback4Justice is an award winning, non-profit organisation, providing specialised, expert advice and help on various welfare benefit claims; from advocacy and representation at court to guidance with forms for PIP, ESA & DLA.
Although based in Bury we offer comprehensive nationwide support, both face to face and through our email and phone advice line.
In the last few years our success has been so astronomical (we have a 95% success rate across all cases) our small but dedicated team is consistently inundated with hundreds of emails and calls to wade through; and as we rely entirely on donations we have been stretched extremely thin, with this in mind we have launched the VIP Fightback4Justice Online Platform.
For you, our clients, our aim with the VIP Platform is to provide you with a handy online directory of everything you will need to assist with your applications; from the extensive online library of fact sheets and claims forms, to template letters and well completed example forms, everything you could need to help you process your application quicker. On top of this vast library of information, our VIP members have access to the VIP Email and Phone service where we guarantee a priority response, allowing you to talk direct to people in the know and get the help you need. Click  'Join Now' to become a member of our VIP Platform! 
Reviews
Feedback From Our Past Clients
I,d just like to say a thank-you I didn't get yous to fill in but did join vip for a month to get help from your forms online to help me with wording etc and I got awarded top on both mobility and care your completed forms are excellent thank you all!
Britta
They have been wonderful. Nothing is too much trouble. They obviously work very late as I've had emails late in the evening. Dedicated to their cause. Highly recommend you get in touch and join if you need help with benefit advice and appeals.
Jonathan Lightfoot
PIP Claimant
The day I met Michelle from Fightback, my life changed for the better in so many ways. I found someone who helped me get the help and support I needed and didn't make me feel like I was a scrounger! Michelle and her team are real life angels, making life so much better for people who can't/or don't know, how to do it themselves. I honestly felt alone and hopeless, but now feel like Fightback are right there with me when I need help or support. I can never thank them enough, especially Michelle ❤ xx
Steve Hargreaves
ESA Claimant
Hi, I'd like to let you know that I filled in my sons PIP form using your Aspergers and Anxiety well completed forms as examples. As a result he had a home visit a fortnight ago and today had a letter telling us he has been awarded PIP at standard rate. The VIP level made things so much easier for us and prevented many meltdowns. 5 star service ⭐️⭐️⭐️⭐️⭐️ thank you!!
VIP Member
PIP Claimant
I want to say a huge thank you, for absolutely everything you and your team have done for me.
You stood by my side the whole way and fought my corner for me when I didn't have the strength or courage.
Thank you to Cat who attended court with me. She drove all this way to support me and she was amazing.. we won!!!
By saying thank you, it just doesn't seem enough. Your all truly amazing and have hearts of gold.
I recommend Fight4justice and their VIP website and services a million percent.
Thank you Michelle and your amazing team.
VIP Member
PIP Claimant